The SV Doodle
The SV Doodle was a tool originally built for the UbiComp 2013 conference to facilitate the organization of student volunteers. After thorough testing, re-programming, and successful test runs at multiple conferences it is now available as a general-purpose SV scheduling tool.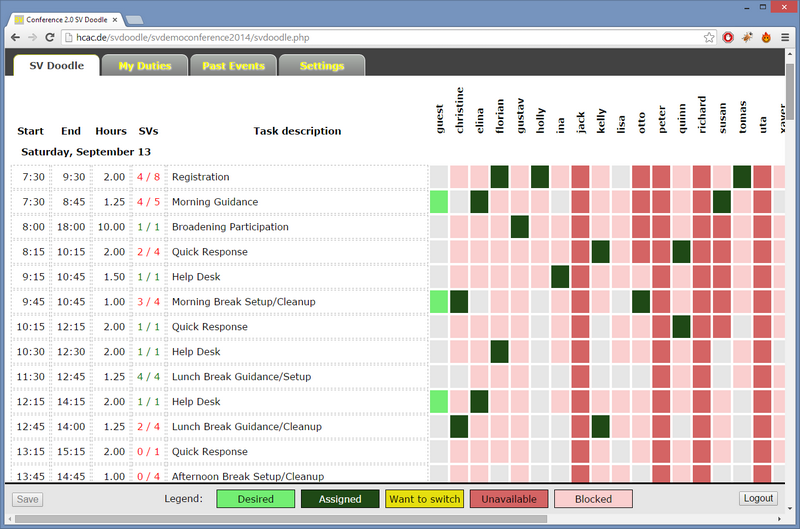 For SVs, the tool offers the following benefits and features:
Quick overview of all your tasks
Pre-select preferred events
Block time slots that you are not available
Automatic e-mail notification if events have been assigned
Mark assigned events as "want to switch"
Automatic e-mail notification if events are available (someone wants to switch)
See your own assignments as well as those of all the other SVs
Letting co-chairs know about when you will arrive at the conference, when you have to leave, and when you are not available during the conference
The benefits for the SV co-chairs are as follows:
Simple assignment by clicking on the schedule's matrix cells
No accidental time collisions or assignment of tasks when SV is unavailable
Easy task addition and editing
See at first glance if tasks need more SVs and how many hours have been assigned to each SV
Statistics about SVs number of tasks, hours, arrival/departure dates
Two additional modes prior to the conference: SV bidding (SVs can select preferred tasks) and assignment (SV Doodle is disabled for non-admins)
One-click "check in" and "check out" during the conference
Date simulation mode for dry test run previous to the conference
Global disabling of email notifications for test runs or mass assignments
And much much more! To see a quick demo conference setup, click here: SV Doodle Demo (login/password: guest). If you want to have admin access to a Doodle, sent me an email containing the desired conference name.
If you are a returning SV from one of the previous conferences and want to log in to the live Doodle, click here: UbiComp 2013, UbiComp 2014, UbiComp 2015, UbiComp 2016, or UbiComp 2017.